Why make a VR Tour?
We discussed that the Textiles Centre needed a VR film or virtual tour experience to encourage, excite and engage school-age children and young adults with the possibilities open to them by entering into the local textiles industry. It is believed the initial thoughts around a career in textiles is typically focussed on the production side of the industry, which is only a part of the process. As a wide and varied skilled industry, the VR experience can introduce users to the various career possibilities available.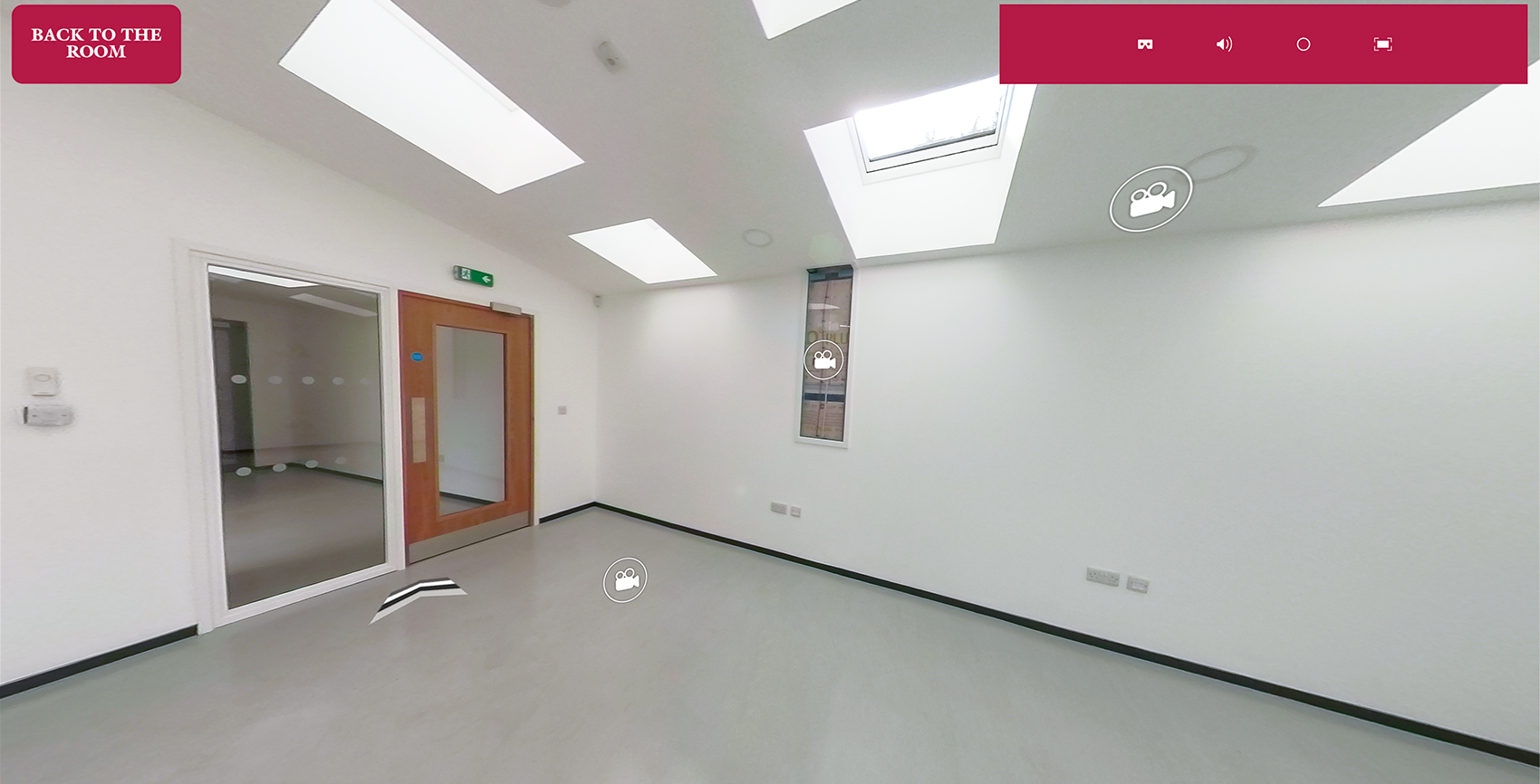 The VR Proposal
This VR experience must clearly show the wide variety of careers available: from Design to Sourcing to Production and more. I propose the VR experience be designed to encourage inquisitive minds and exploration, allowing the user to explore the career opportunities according to their own areas of interest, this can be achieved by "gamifying" the experience. It would work well by presenting information in small bite-sized chunks in the form of interviews, graphics & videos that reveal as the user progresses through a chosen area.
For example, a user is exploring a textiles design department in an initial 360 image. They can scroll around the scene to get a feel for the place and the user is able to click on highlighted areas to reveal embedded videos or graphics looking at the design process or see an interview with a designer discussing the job. After that, the user is presented with several options to progress the tour, to change the department or to explore this area more and gain further information from within the 360 scenes. 
Timelines
Preproduction - 1-2 weeks
The pre-production stage involves mostly planning and admin work: 
Organising the shoot - 
We'll liaise with the businesses and other interested parties to arrange interviewed and the on-site shoot. we'll also manage any queries people may have around the process and requirements. This all enables us to put together comprehensive timescales and shoot itinerary. We'll also source and create and additional scenery requirements for the shoot, organise camera operators, arrange for equipment hire (where required) and onboard any additional support required. We develop interview questions and brainstorm the types of questions the user might have along the journey. 
Site visit - 
We'll visit the site(s) to meet with stakeholders & locate the best placements for cameras and lights we'll also take reference photos to enable further planning off-site.
Mapping the VR experience - 
this is when we design style frames (where needed), arrange the order of the content and plan the user journey. Dedicating focussed time to this process allows the best possible user experience and cuts out a lot of time in the edit and at shoot stage. 
Health and Safety - 
we'll arrange appropriate insurances and PPE where required. 
Production Design - 
we'll design the look and feel of the experience and create custom graphics styles to be used in the experience, elements like custom lower thirds, titles and labels.
Below is an example of a typical production process and timescale: 
Onsite shoot-
1 day for 2 locations around 3-4 separate interviews at each site | 1 day for scenery shots and incidentals | 1 day for around 5 VR scene shoots across 2 locations (around 8-10 in the same location).
Editing and composing the content -
 7-9 days total | 1/2 day per interview edit  | 1 day for 360 Scene compilation (around 8-10 scenes) | 1 day for around 6-8 min edit of incidental shoots | 1 day rendering and exporting the content.
VR Tour creation -
5-7 days piecing together the element of the VR tour, testing and problem solving and final delivery of the VR tour experience. 
Costs Estimate
Preproduction: £2700

*All pre production services are included
Filming, production & final delivery: £6460
On site filming: £520 per day per operator

Edit & final delivery: £350 per day
The VR tour experience will be delivered in two ways. 
1:
As a stand-alone file to be used on a laptop or desktop computer operated in a mouse, drag and click method. 
2:
As an online experience that can be operated with a mouse but also through a VR headset and a mobile viewing experience. You may want to host this on your own server to ensure the speediest experience delivery or I can provide hosting for you, additional charges do apply but I'm happy to provide if this is the preferred method. 
As a 3rd option, we could look at creating an experience designed for Youtube. This would change the approach to the production and becomes a more passive experience for the user as click and progress features would no longer be available. But this would enable hosting on a widely accessible public medium and shave down the costs of hosting, This would also mean a reduction in costs of production. Let me know if you'd like to talk through this option in more detail. 
Conditions and Payment Terms
Preproduction fee is due in advance to commence the project.
Production payment terms 50% at the start of production - 50% at final project delivery. 
Accessible
I work from my current Nottingham office, 9am - 5pm. I'm always available to jump on a video call, I'm reachable through slack, on the mobile, WhatsApp and of course email, so getting in touch is very easy. If there's another way to communicate that you prefer, just let me know. 
If I can help with any queries at all  just get in touch.